Antibiotics Tip Sheet
Get instant access to SMNP Reviews' Antibiotics Tip Sheet and boost your NP board exam prep! You'll find memory tricks, antibiotic classes and their common uses, a common diagnosis and antibiotic chart, and other practical tips to make informed decisions and feel confident on exam day.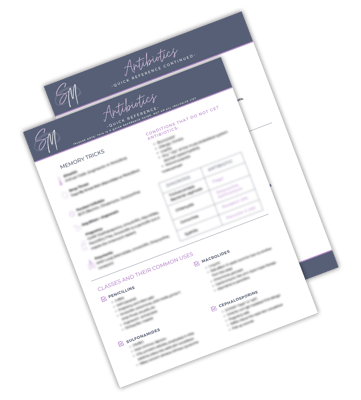 Download your free ultimate quick reference for NP board exam success
Take The Guesswork Out of Studying Antibiotics!

Exam Focused Information
We've tailored this Tip Sheet to help students pass ANCC and AANP exams. You'll feel confident knowing you can tackle questions related to antibiotic usage and contraindications!

Condensed and Comprehensive
Save time and effort in creating an antibiotics study guide. We've compiled valuable and essential information so you can take the guesswork out of knowing what to study.

Expert Insights
We've helped tens of thousands of students become real-deal nurse practitioners! You get to benefit from the wisdom of our experienced NPs who have successfully passed their exam and are here to share their insider knowledge.